FAST SHIPPING TO ANYWHERE IN THE U.S.A.
AUTHENTIC SPICES FROM THE MANUFACTURER
WORLD CLASS CUSTOMER SERVICE
REPRESENTATIVES AVAILABLE MON-FRI 9AM-5PM CENTRAL TIME
Nickanny's Kitchen Recipes and More
Spicy Lemon Garlic Shrimp with Texas Twist Spice
July 20, 2018
Do you love shrimp but need a better way to enjoy it...
Read More →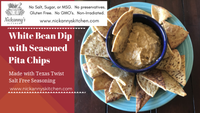 White Bean Dip with Seasoned Pita Chips Recipe For Texas Twist
July 19, 2018
Want to make some delicious recipes with the Texas Twist Spice?
This...
Read More →