Texas Twist - A Peppery Spice Blend With No Sodium - 3.2 Ounce Jars With 5 Recipes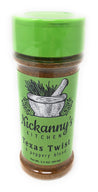 Texas Twist - A Peppery Spice Blend With No Sodium - 3.2 Ounce Jars With 5 Recipes
Product Description
Description
This is our Four Pepper Salt Free Seasoning that is gluten free, sugar free, NON GMO, Non Irradiated, Carb Free and Best for people with Heart Problems, Kidney Disease, and Diabetes or other needs for Salt Free Flavor.  This is low potassium and low phosphorus (listed on label) and 100% pure spice.  You have a full nutritional label that includes information on the amount of potassium and phosphorus in the product if you are concerned about that.
This Texas Twist blend includes chili powder, red and green peppers, jalapenos, onion, garlic and cumin.  A great blend with no preservatives.  You can use this for Cajun, Creole, Fajita, Blackened or Blackening when you are in need of a salt free blend.  You can add a spicy pep to chicken, fish, beef, or pork and use it as a great rub on meats and fish.  Even add it to french fries for a kick of flavor and spice up popcorn.  You can create a spicy broth with this too!
You can add this to any combination of vegetables or as a dry spice for buffalo wings or turkey.  
You get 5 printed recipes with this spice - 
Recipes for:
Lemon Garlic Shrimp
Mediterranean Inspired Quinoa Salad
Southwestern Chicken Soup
Spicy Pineapple Pork Butt
White Bean Dip with Seasoned Pita Chips
This company was started by a Registered Dietitian Nutritionist and Author, NIckanny's Kitchen creates value and quality in every product they bring to market along with great flavors and taste.  These are very kidney diet friendly spices, as well as great for all the family.