Hostess Gift Set - Matching Kitchen Apron and Silicone Mitt in Red Damask, 3 Nickanny's Kitchen Spices and Sterling Silver Starfish Pendant Necklace with Gift Bag and Tissue Paper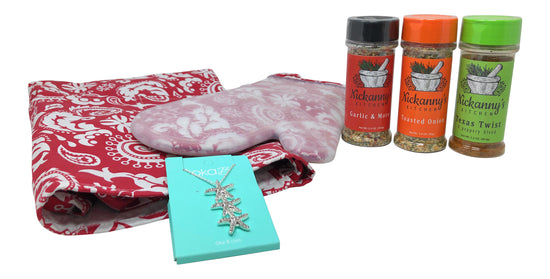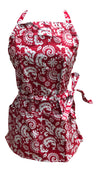 Hostess Gift Set - Matching Kitchen Apron and Silicone Mitt in Red Damask, 3 Nickanny's Kitchen Spices and Sterling Silver Starfish Pendant Necklace with Gift Bag and Tissue Paper
Product Description
Description
LIMITED QUANTITY AVAILABLE!!  Cute red damask kitchen utility apron is 100% cotton with a polyurethane coating to make it easy to keep clean.  The apron has 4 pockets on the front and the ties are completely adjustable. The apron is adjustable and one size fits most, so this makes a perfect gift for anyone who loves to cook.  Spot clean apron with a damp cloth if it becomes dirty. Use it for the kitchen, garden or any messy job! Retail value of apron is $26.
Silicone mitt matches the apron perfectly and is an excellent complement to the kitchen set.  This mitt has a firm grip raised surface on the entire outside of the glove and the inside is a soft quilted lining.  No worries about not being protected from the hot surface because all of the gripping areas of the glove are covered with silicone.  Fits a wide range of hand sizes and comfortable, thick quilted lining on the glove. It's machine washable and dryable but the silicone is naturally waterproof and stain resistant.  Retail value of oven mitt - $20
You will also receive 3 spices - one each of the Texas Twist, Toasted Onion and Garlic and More Seasoning.  As a bonus, we are adding the gorgeous silver starfish pendant - a retail value of $20, that you can keep for yourself or give to another person if you want to.
Total retail value of $99 for all items + Gift Bag and Tissue Paper to make a complete gift.