21 Day Vegetarian Meal Plan For Pre-Dialysis Kidney Disease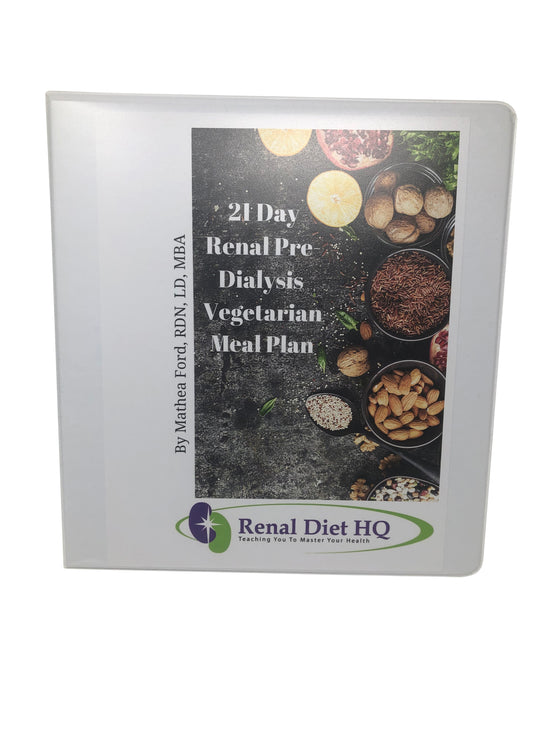 21 Day Vegetarian Meal Plan For Pre-Dialysis Kidney Disease
Product Description
Description
Get this 21 Day Vegetarian Meal Plan For People with Pre-Dialysis Kidney Disease and start right away on your quest to improve your health, save time and have less stress about what to eat!
If you have kidney disease, you have probably been trying to figure out how to avoid dialysis and still eat a variety of food.  You may have thought - "I've heard that plant-based and vegetarian meals are healthy"  And then the reality set in... finding a vegetarian meal plan for pre-dialysis kidney disease is nearly impossible.  Sure, there are lots of websites that talk about being a vegetarian and then some others talk about eating for a stage 3 or 4 kidney disease diet, but you have not been able to find them together.  Until now...
Hi, I'm Mathea Ford, and I am a Registered Dietitian Nutritionist.  I've been working as a Dietitian for over 21 years.  I am also a foodie and I love creating new recipes that meet the guidelines for chronic kidney disease.  Dietitians are trained in the scientific and evidence-based guidelines for healthy eating and improving health.  I happen to specialize in eating for healthier kidneys.  That's why I made this Vegetarian Meal Plan For Kidney Disease.
You are in the right place if you:
Want to avoid dialysis through eating a yummy and healthy diet without more processed and bland foods.
Need the potassium and phosphorus information for meals and recipes but they aren't on the labels.
Question the recommendations because you continue to find conflicting information about the diet and foods to consume for a pre-dialysis diet for kidney disease.  Who knows if they are the nutrition experts you need to listen to? HINT: Probably not!
Your doctor told you to follow a kidney disease diet but didn't tell you HOW or worse yet, handed you a sheet of DON'T EAT but nothing about what you CAN eat.
You want to eat healthier but you don't have time and it's really stressful to search around to find what recipes work for your diet
While being completely vegetarian is an option, you would also like more choices in recipes and foods to eat that you know work in your diet.  
Did you just find out that you have kidney disease, either stage 3 or 4, and have been searching around for what type of diet to follow?  I'm certain you got vague advice from the doctor's nurse who told you to not eat meat or only eat vegetables or other unclear instructions and you are now trying to figure it out because this is YOUR LIFE.  Maybe your doctor didn't even tell you-you found out looking through your labs and asked some questions.
Now you have spent hours or weeks searching endlessly on the internet but all the info tells you different things - and you are not sure if you need to restrict more than protein and sodium.  
So you decided to be safe and just eat the same boring food (maybe baked chicken and rice with green beans?) and now it's really getting old but you don't know what else to eat.  You are stuck between a rock and a hard place - afraid to do anything that will increase your GFR.  
Let me tell you about what you are going to get MAILED to you once you purchase - NOTHING to download - it's a spiral bound book that will be on your doorstep in a matter of days.  
21 full days of meals - breakfast, lunch, and supper with entrees and side dishes.  So you can go to the grocery store and buy the ingredients (most of them you already have) and make meals that you are confident fit the diet you should be following for kidney failure
Vegetarian meals - no meat, chicken, pork, turkey, etc.  No meat substitutes either like tofu or tempeh.  You can eat a completely vegetarian diet without additional work and that's going to save you time.
Meals are (mostly) designed for 2 people.  Some meals (like vegetarian lasagna, for example) are not easy to make just 2 servings of so you can cook that and eat it over the next couple days OR freeze it and eat it in a week or two.  I know many of my customers ask for smaller servings so they don't have to waste food and I've done that with this vegetarian meal plan for kidney disease.
You get an actual cookbook and meal plan that will give you 60+ recipes (55 that have never been released) you can use in your kitchen.  No need to print out 100+ pages on your printer and spend $60 on ink!!  I'm shipping the actual spiral bound book to you ASAP.
Meals that meet your nutritional guidelines - I calculated each day and put together entrees, side dishes, and desserts that meet the evidence-based standards dietitians follow for eating with kidney disease.  Each day has a page showing the actual nutritional information - Calories, Carbohydrate, Protein, Fat, Fiber, Salt, Potassium and Phosphorus contained in each recipe then added together to give you the total for the day.  So what, you say?  That means I personally analyzed each recipe and balanced the daily meals to make them perfect for someone with CKD, pre-dialysis and diabetic renal disease (not on dialysis) who wants to improve their labs and health and stay off dialysis.
You get dessert recipes - 8 of them - all perfect for everyone to eat and especially for you to eat.  You can add some yummy back to your day.
This is not a vegan meal plan - it includes some animal products like eggs, cheese, and cream.  It does not contain animal meats in any of the meals.  This is considered a Lacto-Ovo vegetarian meal plan for kidney disease.  You don't have "special" foods to buy like almond flour or soy milk.  All the ingredients are available in most grocery stores.  No more eating processed foods that are higher in sodium and you are not sure you even like - you will be able to pronounce all the ingredients and recipes are easy to make.
Flavor, flavor, flavor - I do not like bland food and neither should you.  Some of the recipes are spicy but most are not spicy but contain spices that you probably already have in your cabinet (garlic and onion, I'm looking at you!)  You can cook this for both of you to eat and won't hear any complaints!
So, Mathea, what am I going to get?
This 21 Day Vegetarian Meal Plan has:
21 Days of 3 meals a day with side dishes
Each day has a page with all the nutritional information for each recipe used that day and a page that has a summary of all the day's nutrition information if you want to quickly see a summary
Printed recipes sorted by day of the meal plan for you to quickly find and make the meals you want
Over 60 Recipes that are designed to use every day, lower cost ingredients
Balanced nutrition throughout the days - each day has been balanced to meet the CKD recommended guidelines for diets
Printed copy mailed to your door
Additional pages with snack options and nutritional information for each item so you can make it work in your diet
Works for pre-dialysis and diabetic kidney disease (not on dialysis) diagnoses